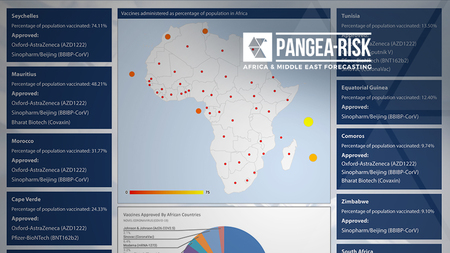 AFRICA & COVID-19: PRIVATE SECTOR VACCINATION INITIATIVES INSPIRE NEW HOPE FOR AFRICA
Mon, 26 July 2021
Private sector-led initiatives are boosting Africa's vaccine production and distribution potential and harnessing its healthcare infrastructure. It may be too late to avert a fourth or fifth wave of infections in many countries, although the continent's "herd immunity" level may be reached by mid-2022, thus boosting tourism prospects and mitigating the economic impact of COVID-19 lockdowns.
Pangea-Risk Insight is a specialist intelligence membership platform that delivers accurate, decision-ready, and commercially relevant forecasts and analysis on political, security, and economic risk in Africa and the Middle East to a wide-ranging spread of client sectors.
All country risk analysis is supported by local source intelligence and driven by proprietary risk methodology presented on a cost-effective, centralised, and user-friendly platform.
Contact us for a complimentary trial of the platform