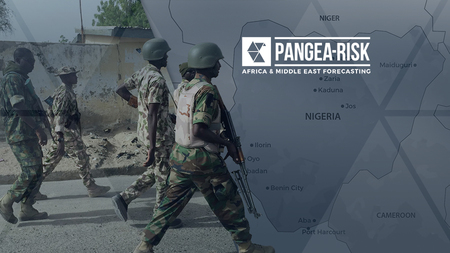 NIGERIA: SOCIAL AND SECURITY RISKS RISE AS ELECTION CONTEST ENTERS CRITICAL PHASE
Fri, 09 December 2022
As Nigeria prepares to hold elections early next year, the political contest has become increasingly heated, with both the country's foremost political parties experiencing a public backlash over their choice of candidates. At the same time, escalating attacks by Islamist militants and bandits, inter-communal ethnic and religious violence, and the activity of separatist rebels all threaten to undermine the credibility of the election.
Pangea-Risk Insight is a specialist intelligence membership platform that delivers accurate, decision-ready, and commercially relevant forecasts and analysis on political, security, and economic risk in Africa and the Middle East to a wide-ranging spread of client sectors.
All country risk analysis is supported by local source intelligence and driven by proprietary risk methodology presented on a cost-effective, centralised, and user-friendly platform.
Contact us for a complimentary trial of the platform