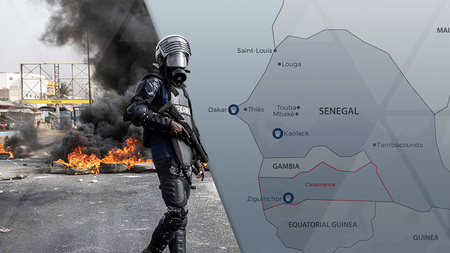 SENEGAL: STATE STABILITY AND SECURITY FACE GREATEST THREAT OF UNREST IN YEARS
Mon, 05 June 2023
The arrest or imprisonment of a populist opposition leader will trigger further violent protests by his supporters in Dakar and southern cities. Yet, the deployment of the military and relative discipline of security forces should mitigate the threat of protracted and more intense confrontations. If further violence does spiral out of control, a much-needed new IMF programme may not be confirmed and disruption to commercial assets, including in the oil and gas sector, would be probable. Destabilisation of the Casamance area would spike the risk of localised militancy and smuggling operations along the border with Gambia.
Pangea-Risk Insight is a specialist intelligence membership platform that delivers accurate, decision-ready, and commercially relevant forecasts and analysis on political, security, and economic risk in Africa and the Middle East to a wide-ranging spread of client sectors.
All country risk analysis is supported by local source intelligence and driven by proprietary risk methodology presented on a cost-effective, centralised, and user-friendly platform.
Contact us for a complimentary trial of the platform