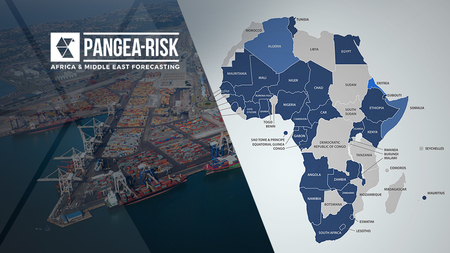 SIX MONTHS INTO AFRICAN FREE TRADE – A SLOW AND BUMPY START
Fri, 18 June 2021
While the launch of the African Continental Free Trade Agreement at the start of this year was greeted with widespread optimism, trade under the agreement has yet to gain much traction owing to slow implementation and a range of enduring obstacles. Most countries are already slipping behind implementation deadlines, while only large, diversified economies are set to benefit from the free trade provisions in the short term.
Pangea-Risk Insight is a specialist intelligence membership platform that delivers accurate, decision-ready, and commercially relevant forecasts and analysis on political, security, and economic risk in Africa and the Middle East to a wide-ranging spread of client sectors.
All country risk analysis is supported by local source intelligence and driven by proprietary risk methodology presented on a cost-effective, centralised, and user-friendly platform.
Contact us for a complimentary trial of the platform