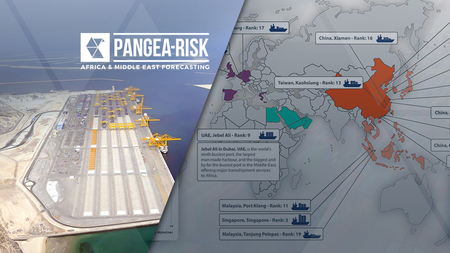 SPECIAL REPORT: INVESTMENT AND TECHNOLOGICAL ADVANCES CEMENT UAE'S POSITION AS GLOBAL COMMODITY HUB
Wed, 08 February 2023
The United Arab Emirates' (UAE) container ports are expanding rapidly, emerging at the top of global indices in terms of volume growth and efficiency. Dubai, specifically, endeavours on becoming the financial and trading centre of the Middle East region. It intends to compete as a trading hub with New York, London, Hong Kong, and Singapore. And there are signs that the emirate might not be far off from achieving this goal. Despite a gloomy outlook for world trade in 2023, the UAE's growing role as an emerging market and a global transhipment hub is set to accelerate, supporting economic growth, and attracting investment.
Pangea-Risk Insight is a specialist intelligence membership platform that delivers accurate, decision-ready, and commercially relevant forecasts and analysis on political, security, and economic risk in Africa and the Middle East to a wide-ranging spread of client sectors.
All country risk analysis is supported by local source intelligence and driven by proprietary risk methodology presented on a cost-effective, centralised, and user-friendly platform.
Contact us for a complimentary trial of the platform