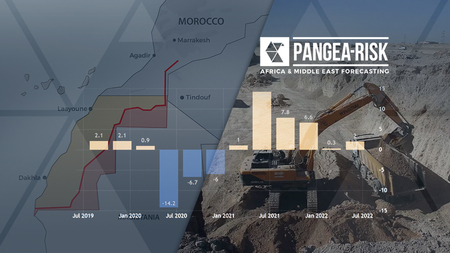 SPECIAL REPORT: MOROCCO PLAYS "FERTILISER DIPLOMACY" TO PARTIALLY OFFSET ECONOMIC HEADWINDS
Wed, 05 October 2022
As much of Morocco's economy struggles to absorb the shock waves from Russia's invasion of Ukraine and the adverse effects of the ongoing drought, one sector in the country has been benefiting exceptionally - the phosphate production and export business. In combination with Morocco's regional investment growth in sectors such as energy, construction, and tourism, Morocco's fertiliser diplomacy at the regional and global levels could further boost Morocco's geopolitical importance and drive positive outcomes for its foreign policy goals in Africa and abroad.
Pangea-Risk Insight is a specialist intelligence membership platform that delivers accurate, decision-ready, and commercially relevant forecasts and analysis on political, security, and economic risk in Africa and the Middle East to a wide-ranging spread of client sectors.
All country risk analysis is supported by local source intelligence and driven by proprietary risk methodology presented on a cost-effective, centralised, and user-friendly platform.
Contact us for a complimentary trial of the platform