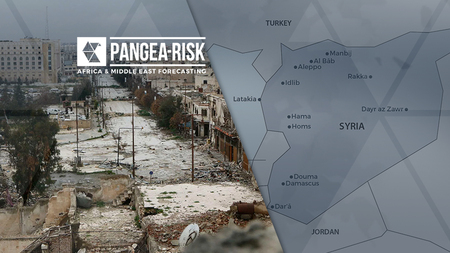 SYRIA: A 'FROZEN' CONFLICT RISKS ESCALATING DUE TO THE IMPACT OF THE WAR IN UKRAINE
Thu, 28 July 2022
Economic conditions in Syria have been mired by the prolonged local conflict, turmoil in neighbouring Lebanon, and now the war in Ukraine. Spiralling inflation, weaker government spending, and elevated political instability remain key impediments to a meaningful economic recovery. While violence has diminished since the peak of the conflict, a protracted war in Ukraine could disrupt the volatile status quo in Syria, potentially endangering ceasefire agreements, tilting the power balance, and complicating reconstruction and economic revival efforts.
Pangea-Risk Insight is a specialist intelligence membership platform that delivers accurate, decision-ready, and commercially relevant forecasts and analysis on political, security, and economic risk in Africa and the Middle East to a wide-ranging spread of client sectors.
All country risk analysis is supported by local source intelligence and driven by proprietary risk methodology presented on a cost-effective, centralised, and user-friendly platform.
Contact us for a complimentary trial of the platform