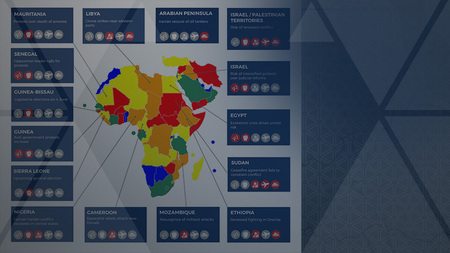 TOP RISKS FOR JUNE 2023
Thu, 01 June 2023
In June, the risk of civil unrest will be elevated in Egypt, Guinea, Guinea-Bissau, Israel, Mauritania, Senegal, and Sierra Leone. There is a heightened threat posed to commercial shipping in the Arabian Peninsula following a series of vessel seizures by Iran, while a recent escalation of militia violence in western Libya threatens to disrupt oil operations. A separatist attack in Cameroon highlights the threat near the commercial capital, and in Ethiopia a breakdown of talks with Oromia-based rebels signals a possible resumption of armed conflict. There is an increased likelihood of a renewed armed conflict between Israeli forces and Palestinian militants, and the end of the rainy season in Mozambique is likely to coincide with increased insurgent attacks. An escalation of farmer-herder violence is likely in central Nigeria, while an attempted ceasefire in Sudan has failed to limit the violence.
Pangea-Risk Insight is a specialist intelligence membership platform that delivers accurate, decision-ready, and commercially relevant forecasts and analysis on political, security, and economic risk in Africa and the Middle East to a wide-ranging spread of client sectors.
All country risk analysis is supported by local source intelligence and driven by proprietary risk methodology presented on a cost-effective, centralised, and user-friendly platform.
Contact us for a complimentary trial of the platform