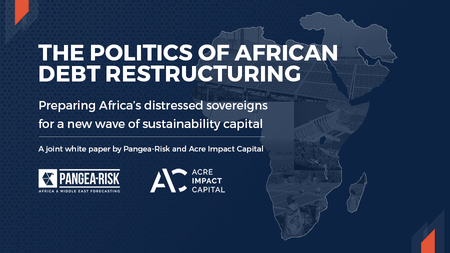 WHITE PAPER: THE POLITICS OF AFRICAN DEBT RESTRUCTURING
Mon, 27 February 2023
PANGEA-RISK publishes a joint white paper with Acre Impact Capital on the need to prepare Africa's distressed sovereigns for a new wave of sustainability capital. The report finds that by 2024, many of Africa's debt-distressed sovereigns will have successfully restructured their most unaffordable loans, whether domestic or external obligations, placing these countries in much better stead to attract private investment, in particular from sustainability-focused and impact investors to address the USD 100 billion annual infrastructure financing gap.
Pangea-Risk Insight is a specialist intelligence membership platform that delivers accurate, decision-ready, and commercially relevant forecasts and analysis on political, security, and economic risk in Africa and the Middle East to a wide-ranging spread of client sectors.
All country risk analysis is supported by local source intelligence and driven by proprietary risk methodology presented on a cost-effective, centralised, and user-friendly platform.
Contact us for a complimentary trial of the platform